WHAT IS THE SEQUENCE LOGO?
The Sequence Logo is a tool that summarizes the residue(s) at each position across the sequence(s) that has been selected. It is especially useful when beginning to analyze sequences from design results.
HOW TO ACCESS THE SEQUENCE LOGO
To access the Sequence Logo select the tab for your design results. The Structure Viewer should load your protein structure in the workspace at the lower part of the screen. On the bottom right click the arrow button next to Structure Viewer:

 and switch from Structure Viewer to Sequence Logo.
HOW TO ADJUST SEQUENCE LOGO
On the x-axis, you can slide through sequence positions to focus on a region of interest. The y-axis displays the relative frequency (in the final sequences) of each mutation at a position.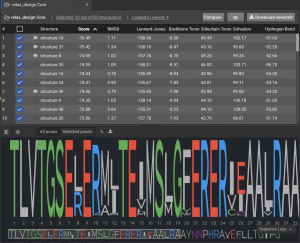 In the example above this Sequence Logo is shown for all the structures generated in this design run. The y-axis is in bits. In information theory, a bit is a log scale measure of frequency. To better show the less frequent residues switch to percent mode by clicking the % next to Selected poses. You can also click 

 to just show the checked structures. And click 

to only show positions for a Selector.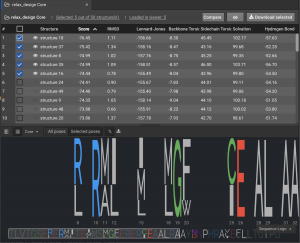 Now in this example above the Sequence Logo is shown for selected poses for this design run and the image shows the y-axis in percent mode. Note how positions such as 137 are much easier to read in percent mode.